When it comes to gorgeous home extensions and makeovers, some of the most beautiful seem to come from Down Under. The many heritage homes and cottages in Australia's big cities and their busy suburbs are getting a modern makeover as their homeowners want to give the aging homes a fresh, cheerful interior. Designed by Kreis Grennan Architecture, the Brick Aperture House in Petersham, an inner suburb of Sydney is similar in its overall design with the street façade of the heritage cottage being preserved in favor of an open rear extension.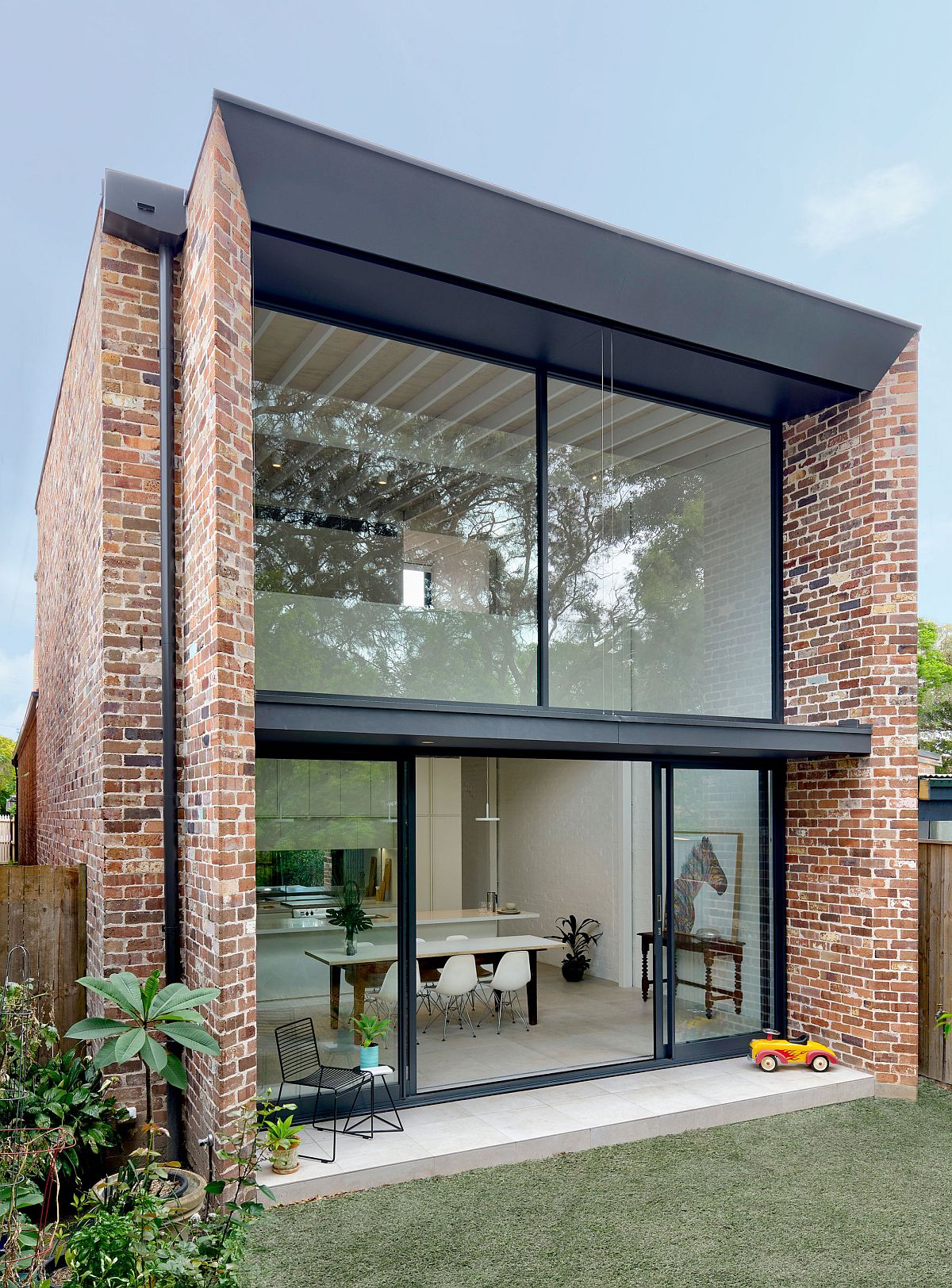 Modern extension to a classic federation-style home in Petersham, Sydney utilizes brick and glass
The Federation-style building's latest addition is crafted using brick and glass with the sliding glass doors and floor-to-ceiling glass walls allowing ample natural light to flood indoors. It is the ground floor that contains the new kitchen, dining area, laundry room and a bathroom while the upper floor gets a master bedroom along with a small study that overlooks the dining area and the rear garden. While the brick walls on the outside accentuate the heritage style of the neighborhood, on the inside, they are painted white for a more modern, charming backdrop. [Photography: Michael Nicholson]
Kitchen and dining area on the lower level with an ensuite and studio above make up the rear extension
Large glass window on the upper level offers lovely views of the suburban neighborhood
Link connecting the old heritage home with the modern rear extension that houses the kitchen and dining space
Narrow staircase leading to the top level of the house
Painted brick walls of the extension ensure that the old and the new interact in a seamless fashion
The addition is connected with an articulated link under the gutter, revealing the connection through a series of skylights. Though strategic placement of glazing, the new volume edits a beautiful view back to a historic sewer stack, in line with three chimneys of the existing dwelling. On the opposite side, the occupant experiences a brick framed aperture…
Sliding glass doors and glass walls connect the white modern kitchen with the rear yard
Upper level master bathroom in black and white with ample natural light
Double-height kitchen and dining area of the house with ample natural light and a modern-classic appeal
Ensuite on the top level with a view of the dining area below and the rear garden
Design plan and sectional view of the Brick Aperture House in Sydney
Floor plan of revamped modern home in Sydney suburbs
Liked the story? Share it with friends.