If there is one material that epitomizes luxury, class and elegance cutting across eras and styles, then it is undoubtedly marble. Be it in the Oriental and Indian backdrops or in the more modern western setting, marble has been a symbol of opulence and beauty for ages. Anything covered in marble feels just that much better; much like in the case of gold! And while marble countertops in the kitchen look great, they are definitely high-maintenance. You cannot use them in every kitchen and even in the open plan living with a kitchen that features marble countertops, a dining room that also embraces the material is a sensible choice.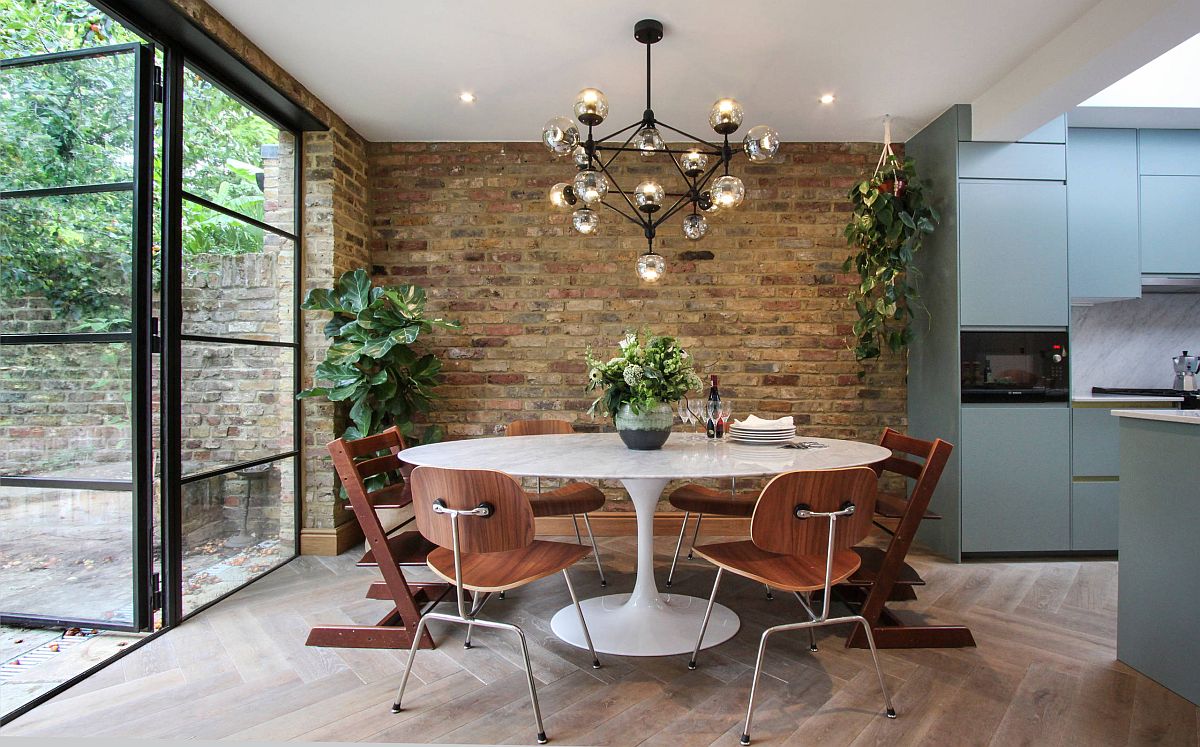 Modern industrial dining room with brick wall backdrop and a gorgeous dining table
Finding a dining table with marble top is not always as easy as it sounds and finding one to fit in with the right budget range and style setting in your dining room is even harder. The best marbled-top dining tables combine modernity and exclusivity with space-savvy goodness and an ability to blend in with a variety of styles. Iconic at times and understated on other occasions, these marble top dining tables will leave you floored!
Usual Lineup of Suspects
The round dining table in white marble is often the most popular and sought-after choice in the world of marble-top dining tables. This is a choice that is easy to work with and one that allows you to maximize space in the small dining room of dining area in the open plan living. An iconic addition like the Saarinen Tulip Dining Table with a marble top and its striking pedestal base does even more as it creates square footage that allows you to tuck in the dining table chairs when they are not in use. You can take this a step further with the oval dining table that feels a bit different from the more common circular design and brings a different dynamic to the interior.
Oval shaped dining table in marble with pendants in white above [From: Chris Cobb Architecture]
Saarinen Tulip Dining Table with marble top is one that you just do not want to miss! [From: ATELIER FB]
White marble top dining table stands in contrast to the dark pendants above [From: James Gorst Architects]
Beautiful chairs with sculptural charm and a dining table with marble top for the contemporary dining room [From: Lisa Bell Design Group]
Gorgeous purple chairs coupled with white marble dining table with pedestal base [From: L Works Ltd]
Try Out Dark Magic!
If white marble dining tables seem far too mundane for you (then you must really be surrounded by an opulent world full of high-end décor pieces) or just feel that white is not a color that works for you with the dining table, then try out dark, black marble instead. This one is just as classy as the gorgeous white marble dining table, much rarer and one that instantly captures your attention no matter where it sits. In modern homes with an open plan living and neutral backdrops, it makes plenty of sense to choose a darker dining table that anchors the room elegantly.
Custom marble dining table with unique design is a showstopper
Black marble table top adds class and style to the dining room while adding another color to the setting [From: Sacha Jacq Interiors]
Think Beyond Just Curves
Bored with all the marble dining tables that come with just curves? Not to worry as we have some cool ideas for those who love simple, straight lines and clean design. The square or rectangle dining table in marble with a metallic base is also less-common than the many round ones you find in market. These tables might not save space, but they look absolutely gorgeous in large dining areas and feel far more formal. Yes, you do not have the pedestal base here, but the sheer presence of the table more than makes up for this.
Perfect marble top dining table for the all-white contemporary dining room of New York home [From: Euro Natural Stone]
Classy and unique marble top Knoll table for the fab Paris dining room with metallic base [From: d.mesure – Elodie Sire]
Liked the story? Share it with friends.