Rental markets across Australia continue to reel under the impacts of COVID-19 outbreak, with vacancy rates in CBD locations rising substantially in April, according to the latest figures from SQM Research.
Over the month, the national vacancy rate rose to 2.6%, up from 2% in March and from 2.3% last year.
On a monthly basis, only Darwin recorded a decline in vacancy rate. Sydney, on the other hand, reported the highest rate at 3.9%, a significant jump from 2.9% in March.
Also read: Assessing Property Risks During COVID-19
The table below shows the vacancy rate in each capital city: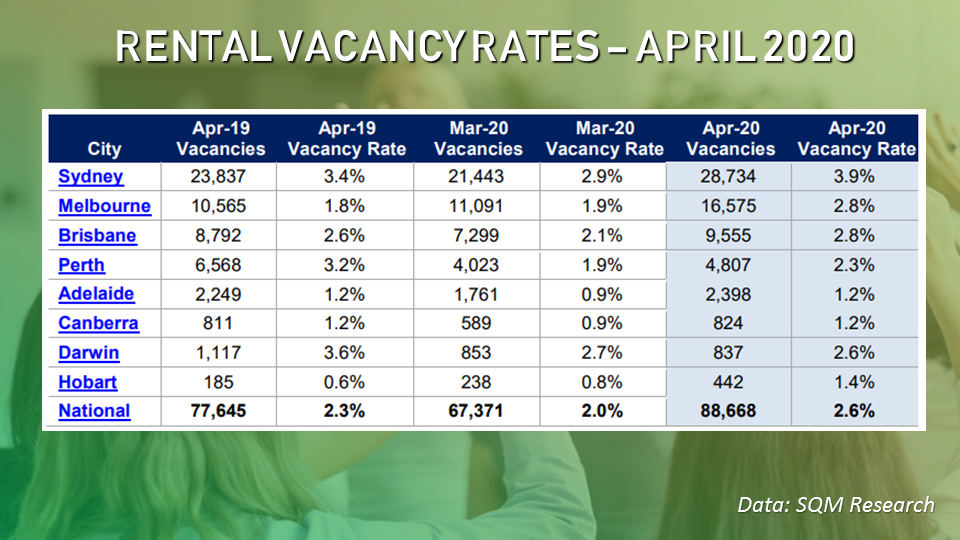 Capital city CBD locations reported steep increases in vacancy rates. Sydney CBD, in particular, reported the highest vacancy rate at 13.8%. Brisbane CBD also reported a sharp rise to 11.3%.
Louis Christopher, managing director of SQM Research, said the sudden increase in vacancies in CBD locations could be attributed to the economic impacts of the COVID-19 outbreak.
"The blowout in rental vacancy rates for the major CBDs suggests a mass exodus of tenants occurred over the course of March and April. This might be attributed to the significant loss in employment in our CBDs plus the drop-off in international students," he said.
The table below shows the monthly and annual difference in vacancy rates across each capital-city CBD location:
Christopher warned that a sustained increase in rental vacancies could result in deeper declines in rents.
"This will be good news for tenants but a disaster for landlords. There will also be economic consequences, with further sharp falls in building approvals likely, thereby risking a major depression in our residential construction sector as well as the rather obvious risks for housing prices," he said.
Asking rents across capital cities have already decreased by 1.3% for houses.
Sydney, Melbourne and Perth recorded decreases in asking rents for both houses and units over the month while Brisbane, Canberra and Hobart recorded declines in house asking rents but minor increases in unit asking rents.
On the other hand, Adelaide defied the trend and reported rent increases for both houses and units.
The table below shows the weekly rents in each capital city as of 12 May:
Top Suburbs : stafford hts , menai , goulburn , sunshine , nundah
Get help with your investment property
Do you need help finding the right loan for your investment?
When investing in property, it is important to make sure that you not only have the lowest available rate that you can get, but also have the correct loan features for your needs.
Just fill in a few details below and we'll then arrange for a local mortgage broker to contact you and work out what features or types of loans are right for your needs. We'll even help with the paperwork. Plus an appointment is free.
We value your privacy and treat all your information seriously – you can check out our privacy policy
here