Even a large Condominium can feel dull and out-of-place with a poor plan that puts in unnecessary partitions and blocks out natural light. That was just the case with this condo in South End, Boston before Leslie Fine Interior were brought in for a major overhaul. It all started with the kitchen that previously also featured a large pantry and a laundry area next to it. All of these were cramped into a really tight space and one of the first thing the architects did was to relocate the laundry and give the kitchen a whole new floor plan. Next to the kitchen is the smart dining area while the living room in white is filled with bright red accents.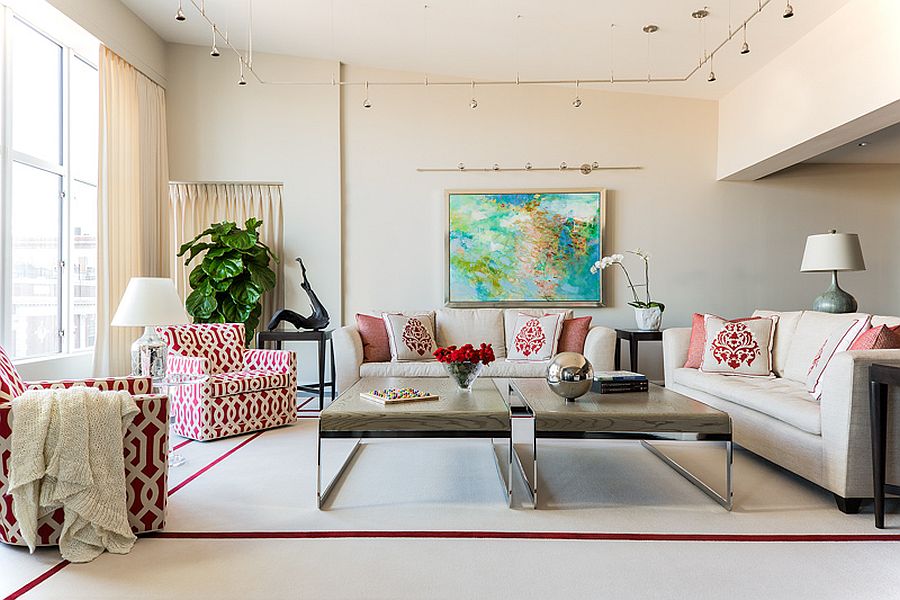 Fabulous living room of the house in neutral hues with red accents all around that make quite a visual impact
Throughout the house one can find large wall art pieces in every room and even though they come in different colors, they add to the common modern coastal theme. The kitchen cabinetry also improves the overall organization of the condo with a white and blue color palette shaping the home office. In the bedroom, bedding and drapes bring beautiful pastel colors and the overall ambiance is inviting in every sense of the word. This is a stylish and space-savvy condo makeover that leaves you impressed!
It is blue accents and a modern coastal theme that makes the biggest impact in the small home office
Large and spacious living area of the house with furniture and wall art that usher in color
Modern dining room in white with sheer curtains for the South End home in Boston
New, revamped interior of the house with a kitchen that is functional and easy on the eyes
Renovated spa-like bathroom of the Boston home with a him & hers design
Sofa and comfortable decor bring modernity along with opulence to this revamped home
Further, the wall between the toilet and tub was reduced to counter height to create a feeling of openness but still maintaining the separate spaces. A sculptural, free standing bathtub took center stage in the space, and a wonderful lighting plan was created to provide both mood and task lighting.
Space-savvy design of the remodeled home makes an impact while reducing clutter
Using bright wall art pieces to make a big visual impact in the modern home
Wall art creates a common theme in different rooms of the house even while altering the accent color
Decor in pastel hue along with bedding in matching colors for the light-filled master bedroom
Liked the story? Share it with friends.