It is not that easy to create a home that is the perfect balance between the old and the new. You need to combine traditional touches with modern functionality in a way that offers the best of both worlds. And that is just what you get with Watersmark 35 designed by Mark Ashby Design in Austin, Texas. This is a home that has a style of its own with neutral colors shaping the backdrop in almost every room of the house. Large windows with dark frames bring the scenic landscape inside even while lighting up every corner evenly. This ushers in a certain visual balance that is accentuated by symmetric placement of décor and multi-level open floor plan.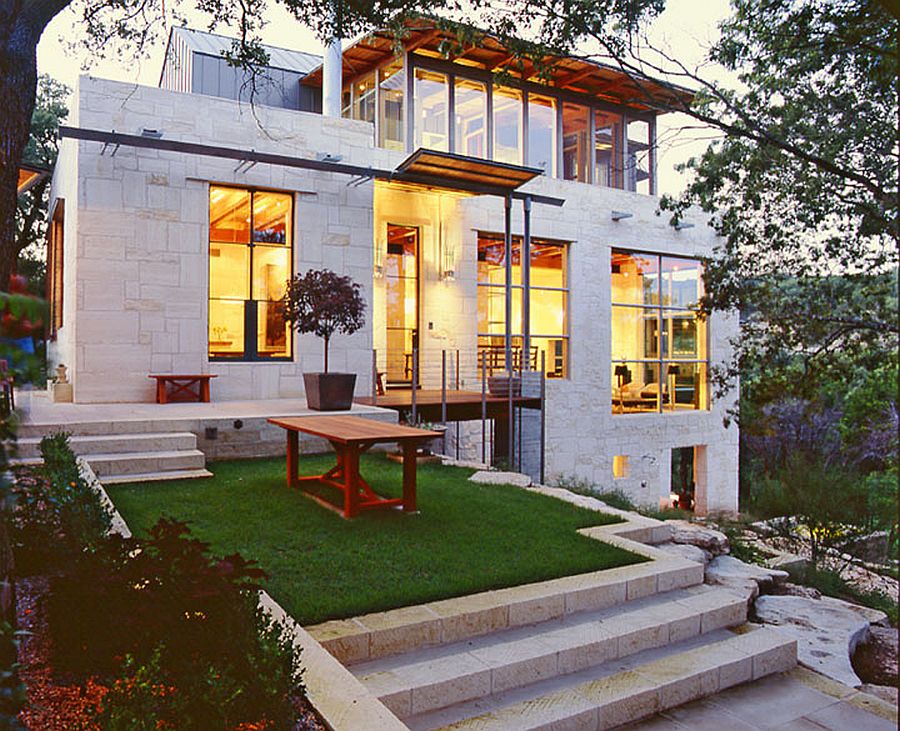 Modern Classic Watersmark 35 home in Texas with stone exterior and fabulous outdoor areas
More than the interior though, it is the exterior of the house that is the true highlight in here with a series of decks and gardens extending the living area outside. The house sits on a sloped lot and offers wonderful views of the neighborhood. It is the lower levels that contain the public areas while the upper floor holds the bedrooms and other private spaces. Each room flows into the next seamlessly with stone and wood being the main materials in here.
Kitchen and dining area of the Texas home is spacious and unique
Large glass windows bring ample natural light into the spacious living area
Matching floor lamps with dark lampshades bring symmetry and style to the modern interior
Modern farmhouse dining area of the house with stone walls and large glass windows
Even when one steps inside, the stone and glass walls bring the charm of the exterior indoors in an unabated fashion. Décor is modern and understated and the muted color palette accentuates the few bright colors used in the living area and the bedroom. It is a home that is cozy and classy at he same time!
Stone along with wooden countertops gives this modern kitchen a traditional appeal
Stone and glass walls along with wooden ceiling give the interior a cozy and classic appeal
Windows with dark frame stand out visually in this large home with mostly neutral colors
Bedroom in white with drapes in light blue and ample natural light
Gorgeous views of the lush green landscape can be enjoyed from the upper levels of the house
Liked the story? Share it with friends.