Every tiny home and small apartment brings with it a unique set of space-saving ideas which we can borrow from. Each one offers unique spatial solutions; some that work in your home and others that leave you awe-struck. His small and beautiful apartment in Kiev is no different with its 45-square-meter interior being turned into a delightful modern setting by Anna Romanova of Martin's. There is so much to admire in here – from the smart use of color and natural light to the elegant way in which spaces are delineated without actually using solid barriers. The apartment feels contemporary, urbane and engaging – a cheerful space where you feel welcome!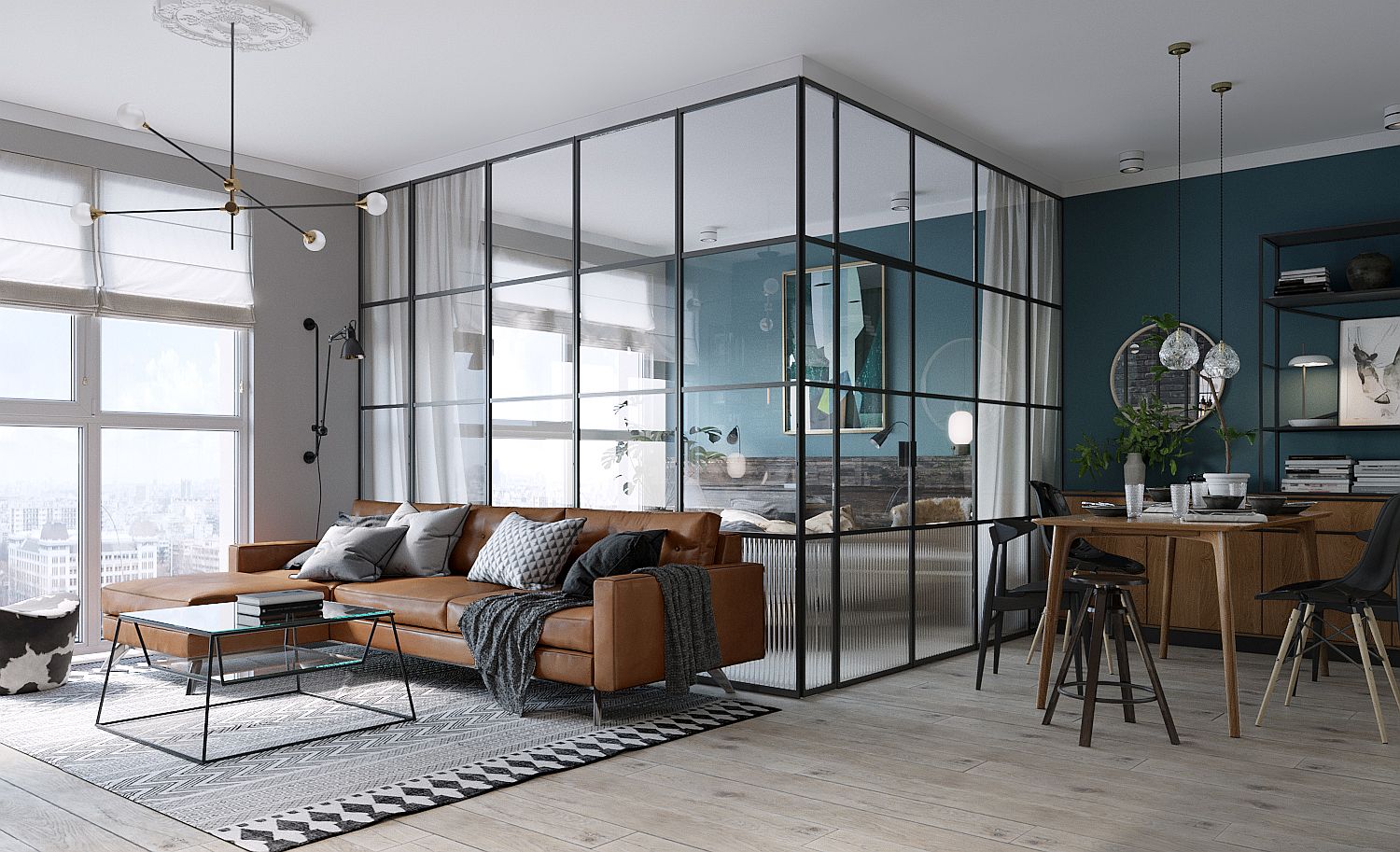 Dark framed glass walls create the bedroom in this small Kiev apartment that is 45 square meters in space
One of the trendy bedroom ides for 2020 is the use of glass walls to delineate it from the living room inside small apartments and that is just what you get in here. Dark gray drapes can be used to offer complete privacy inside the bedroom when needed and on other occasion it is connected with the living area visually. Next to the bedroom is the small dining area and both the rooms share a common greenish-blue accent wall in the backdrop. A wooden credenza, custom wooden table and lovely pendants shape this breezy dining area.
Single-wall kitchen, dining area and living room of the small Kiev Apartment
Bedroom with glass walls and drapes has a modern minimal style
Dark brick walls create a lovely backdrop in this modern home with space-savvy design
Dining room with a neutral color palette, blue accent wall and wooden storage unit
Fabulous bluish-green accent wall is a part of both the bedroom and the living room
On the opposite side is the single-wall kitchen with a dark, brick wall backdrop and next to it is the living area that overlooks the city. A flood of natural light, an even layer or artificial illumination and white cabinets complete this creative Kiev apartment that is easy on your eyes.
Simple and space-savvy dining area with wooden dining table next to the bedroom
Light blue tiles in the shower area add just a hint of color
Bathroom in neutral hues with wooden vanity
Liked the story? Share it with friends.