To be very honest, we are not personally too keen on stereotyping color or design. The idea that blue is for boys' bedrooms and pink for girls' rooms is one that is deeply ingrained in many. Yet, it is not something that one must strictly adhere to. And in the girls' bedroom, you can easily use colors beyond pink for a classy and stylish interior that still feels contemporary. In the girls' bedroom, you can still use a neutral color palette for the backdrop and usher in that feminine vibe with accents that make a difference. From the stylish to the understated, this is a look at the best and trendiest girls' rooms of the season.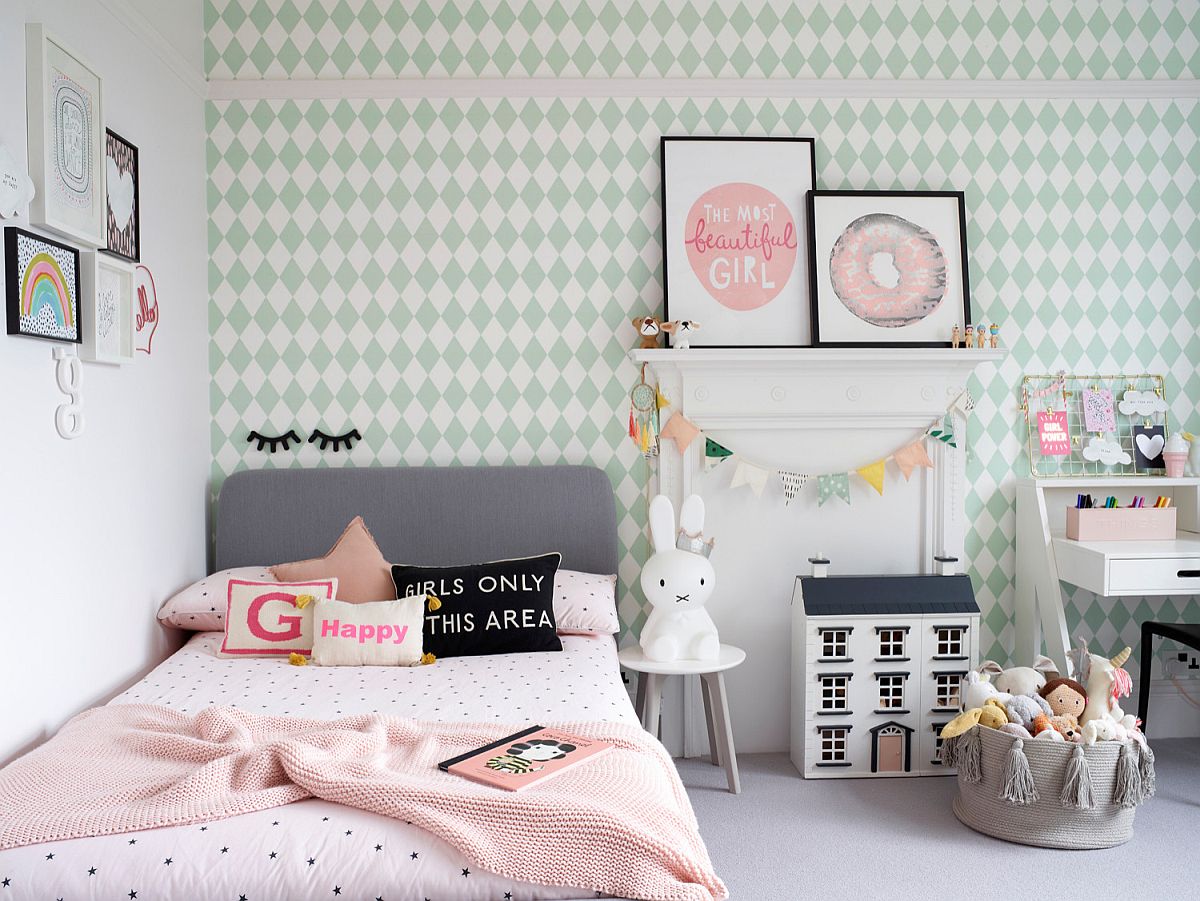 Lovely accent wall covered in wallpaper add pattern to this relaxing girls' bedroom with a touch of Scandinavian simplicity [From: Interior Therapy]
There are different ways to go about decorating the girls' room. One approach is to keep the backdrop as neutral as possible and create an environment that grows along with them easily. The other route is to fashion a girls' room that has a special theme and need changing sooner than later. A blend of perfect aesthetics and functionality, these small and space-savvy girls' rooms with contemporary themes are an absolute charm –
Safe and Stylish Option of Pink
If there is one go-to color in the girls' bedroom, then it is undoubtedly pink. Pink girls' rooms come in a wide range of styles and it is a color that can be used in every room with ease. In the contemporary pink girls' room, the best approach is not to use shades and hues that are far too bright in an extensive fashion. This might give the room a gaudy and ungainly look. Instead, choose an accent wall and try out your choice of pink before you embrace the color in a more extensive fashion. Pink pastels coupled with a gray backdrop is a popular color scheme that also feels sophisticated.
Pink and gray girls' contemporary bedroom is space-savvy and eye-catching
Pink girls' bedroom feels bright and contemporary at the same time [From: Godrich Interiors]
Pink is the most obvious color of choice in the contemporary girls' room [From: La Rochelle Home]
Contemporary girls' bedroom in white and gray with pastel pink accents all around [From: Susan Semmelmann Interiors]
Classy and Colorful
In the contemporary girls' rooms colors beyond pink look apt as well. One color to try out this spring and summer in the girls' room is orange at its tangy best. Orange can make a big difference to the neutral room even when it is used in very small quantities. An equally eye-catching color in here is purple – a hue that adds regal charm to the room even as the backdrop is kept understated. Color schemes like black and yellow bring a sense of uniqueness to the girls' room while white and blue is a color duo that can be surprisingly entrancing in even the girls' room.
Bright orange walls brighten this girls' room with bunk beds and space-saving design [From: Alair Homes Arlington]
Finding the right wallpaper for the contemporary girls' room in yellow and black
Neon lights bring pizazz to this fabulous girls' room with a bold red carpet and a neutral backdrop [From: Anthony W Design & Local Trade]
Nothing brings brightness and energy to a girls' bedroom like yellow at its brilliant best
Wallpaper brings flowery pattern to this bright girls' bedroom in white and pastel hues [From: Godrich Interiors]
Easy on the Eyes
We love girls' bedrooms in neutral colors that use colorful accents because they can be easily altered down the line. Wallpaper is a cost-effective way to decorate the kids' room and shifting between different seasonal colors is easy with this approach. Floral patterns and nature-centric themes are currently trend toppers, but you can also pick those with geometric pattern to usher in something different.
Breathe life into the small kids' room with a flower-filled wallpaper and pastel hues [From: Design Till Dawn]
Monochromatic bedroom in white with colorful wallpaper and drapes in white [From: b+g design]
Shared girls' bedroom with twin rattan beds and smart furniture [From: Heidi Welker Interiors]
Wallpaper brings the charm of woods into this contemporary girl's bedroom in white and light pink [From: Uliana Grishina Photography]
White contemporary bedroom in attic with a hint of pastel pink thrown into the mix [From: Juliet Gold Design]
Adding trendy accents to the gender-neutral bedroom can turn it into a fabulous girls' room [From: Jen Talbot Design]
Liked the story? Share it with friends.