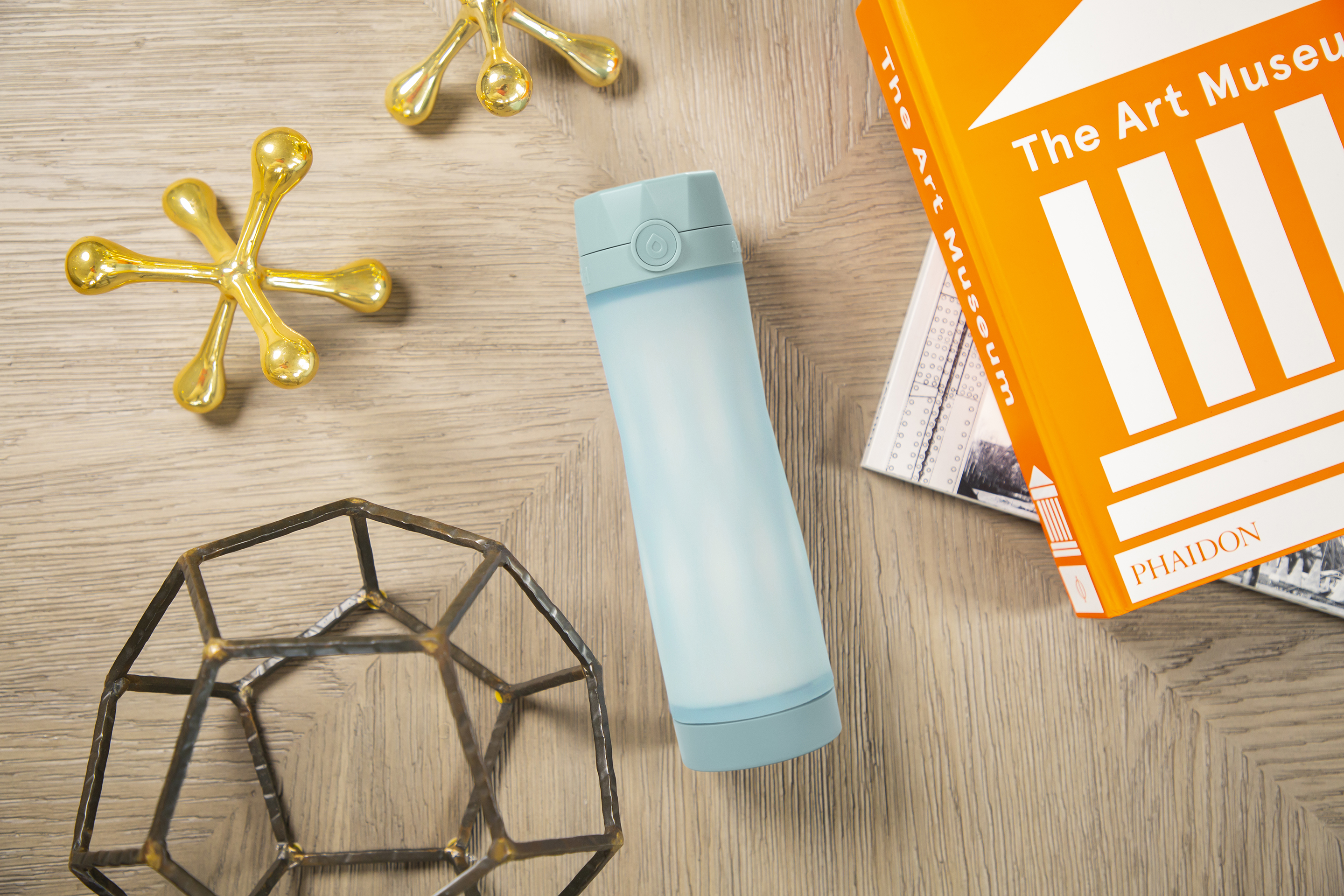 The definition of luxury is ever-evolving. That's why we've compiled the latest indulgences to keep you at the forefront, each of which will help you live a more streamlined and organized day-to-day.
It's all too easy to go through your busy day without drinking enough water. Proper hydration, however, is crucial to maintaining one's health and on a day-to-day basis significantly impacts your mood, cognitive function, and digestive system. The good news is that you can now have a smart water bottle that reminds you when it's time to drink up and avoid living with chronic dehydration. The HidrateSpark 3 tracks every sip you take throughout the day and will illuminate to notify you if your water intake is too low. You can also use the app to set daily goals that are personalized based on your body type and activity levels. hidratespark.com
It's well known that regular use of saunas provides numerous health benefits, from improved cardiovascular performance to post workout recovery. If you want the ultimate refuge to enjoy those therapeutic effects, the Panorama Barrel Sauna is an eco-friendly solution that you can position anywhere on your property to take advantage of breathtaking natural scenery. Constructed from a choice of Nordic white pine or clear red cedar, its sleek design is complete with a bubble window that immerses you in nature while improving your mental and physical wellbeing. It's the next best thing to having your own private wellness retreat in the backyard. redwoodoutdoors.com
Avid runners know that when it comes to improving your personal best, the key is to run smarter, not harder. The Sensoria Smart Sock V2.0 & Core empowers you with all the data-driven insights you'll need to take your running to the next level using textile sensors that track your movement. Through the mobile app, you'll receive live feedback on your cadence, foot landing technique and impact score to correct injury-prone running styles and bad tendencies. And when those old sneakers start to wear out, the odometer feature will notify you that it might be time to go shoe shopping. sensoriafitness.com
We all want to eat food that's both delicious and nutritious, but simply finding the time to shop for and prepare such meals can be difficult. That's why we're all in on Sakara Life's Signature Program that delivers organic, plant-rich super meals right to your door and ready to eat. You can expect a burst of creative flavors, like kimchi and buckwheat soba bowls with an avocado-cacao probiotic pudding for dessert, and rest assured that your diet will be the cornerstone of a healthy lifestyle. If you feel like a cleansing is in order, Sakara Life also offers an intensive detox program to reset your system, improve digestion, and increase energy levels. sakara.com
The environmental factors in our living space, like air and water quality, have a profound effect on our personal health and wellbeing, yet it's difficult to monitor these elements in real-time. Until now, that is. DARWIN Home Wellness Intelligence is designed to actively remove air pollutants and water impurities while empowering you with up-to-the-minute data on your home's environmental conditions to ensure that you and your family can breathe easy. DARWIN also boasts a smart lighting feature that syncs with your circadian rhythm to mimic natural sunlight and boost your energy levels throughout the day. delos.com
If your busy schedule keeps you from getting to the gym but you still want to live a healthy lifestyle and experience the support of a
community when working out from home, then the Peloton Bike is the answer. Equipped with a 22″ HD touchscreen, this state-of-the-art stationary bike gives you access to 90+ live-streamed classes each week with professional instructors giving real-time feedback. The immersive workout experience enables you to develop your own personal training regimen or go on rides with other members and give each other support while pushing your limits. peloton.com
All day long, and often well into the evening, we find ourselves staring at smartphones, tablets, and computers. However, the blue light that's emitted from these screens can negatively impact our health, as research has shown it disrupts the body's biological clock and suppresses the natural release of melatonin before bedtime. In a perfect world, we would avoid screen time up to four hours before bed, but that's not always realistic and is why everyone should own a pair of Felix Gray blue light-blocking glasses. These effortlessly stylish frames are like a secret weapon against digital eye strain, disrupted sleep cycles, and the rigors of modern life. shopfelixgray.com
In the hustle of our daily lives self-care and intentional wellness is more important than ever. Try incorporating an afternoon tea ritual that creates a moment of quiet reflection to balance the noise of modern society. Consider Intentionaliteas, as a gift for you or someone special, and choose from one of their beautifully handcrafted boxes, such as Gratitude, Home, Peace, Love or Wellness. Each gift includes a soothing loose-leaf herbal tea, an infuser ball to assist in preparation and a complimentary candle to nurture your wellbeing. intentionaliteas.com
For more, check out the latest issue of Luxury Portfolio International® Magazine.