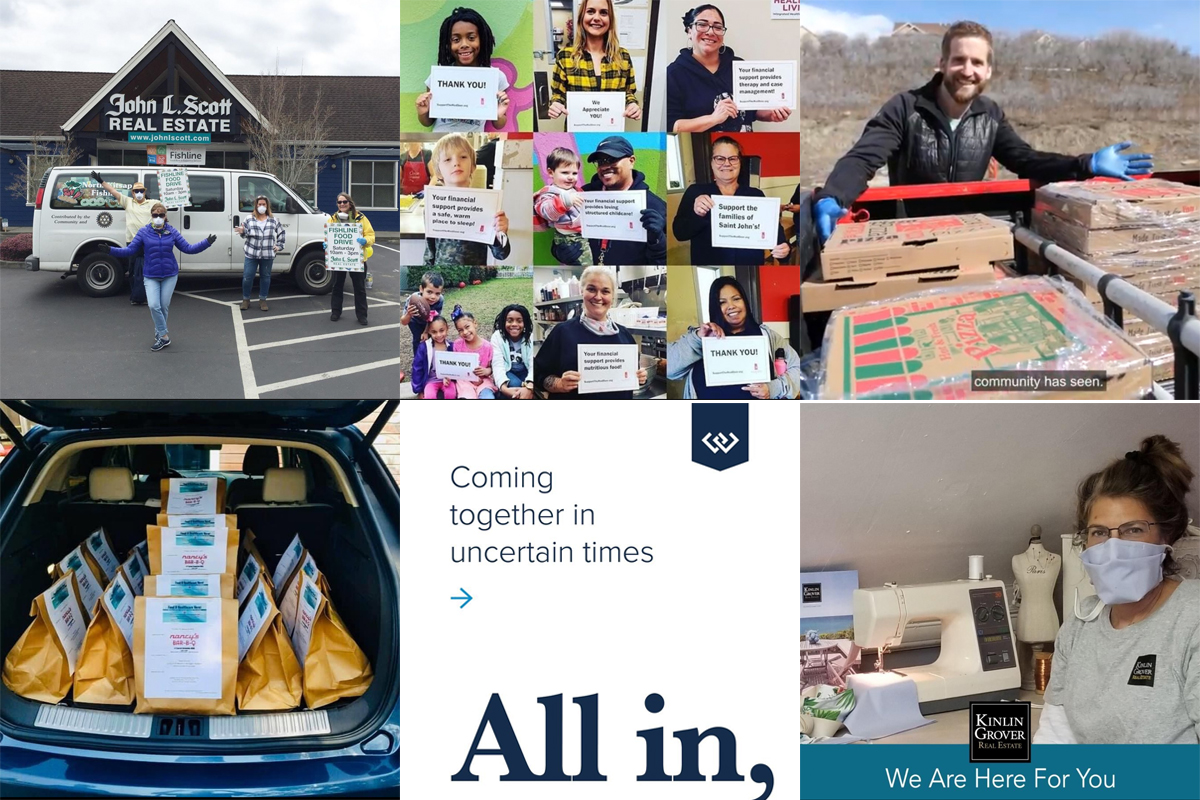 Last month, we shared a blog titled Market Spotlight, which highlighted the good works and good marketing done by our members. In the last few weeks, the positive impact continued, with members combating everything from hunger to boredom to coronavirus transmission.
Even LPI, LeadingRE and RELO Direct joined forces to purchase lunches from Hannah's Bretzel, which were then delivered to our local Rush Hospital in Chicago, Illinois.
Read on for the truly inspiring acts of our members.
John L. Scott's offices have participated in a number of causes, including the donation of 8,961 pounds of food and $15,857 to local food drives, as well as the creation of masks by broker Nelya Calev to donate to local hospitals. Additional acts have included delivering meals to healthcare workers and residents of the Ronald McDonald House.
Real estate agent Brian Loebker of Michael Saunders & Company organized an effort called "Feed A Healthcare Hero." They successfully raised $29,213, translating to over 1,100 meals purchased from 105 local Florida restaurants, all of which were delivered by 150 volunteers.
Since 2015, Lyon Real Estate has provided grants to non-profits annually from the Lyon Cares Foundation. The grants are funded by donations from 97% of their agents, and the charities are selected by vote from their 17 offices. In early May, the company donated a total of $95,000 to causes that included the Leukemia & Lymphoma Society, Sacramento Food Bank & Family Services, Wellness Within, Zaphia's Family House, and Stanford Sierra Youth and Families, all of which inarguably need funding now more than ever.
Multiple offices of Wisconsin-based Shorewest, REALTORS® contributed food and PPE to their communities. Agent Alice Horton from the Mequon office personally created and delivered a whopping 700 masks to healthcare workers, prisons and other compromised individuals. Additionally, the New Berlin office donated over $3k and hundreds of pounds of food to a local food pantry.
Through this crisis, Bluewater Real Estate has worked hard to feed its community. Broker Cathy Scheaffer started a program through her church to feed elders and those who have lost their jobs due to COVID-19. Meals are purchased from local restaurants and then delivered by a team of volunteers. Over the first 7 weeks of the program, they've served over 850 meals to 110 people from 13 different restaurants. Bluewater additionally supplies the meal recipients with Food Lion gift cards, a regional grocery store.
Their efforts go beyond current conditions, however. Year-round, the owners donate 600-700 backpacks of food to children on a weekly basis through the organization BackPack Friends, as well as pay employees to do one day of volunteer work per year.
Martha Williams Group of Williams Trew Real Estate provided a welcome distraction from current events in the form of a photo game on social media, which encouraged followers to spot the difference between two near-identical pictures. It was a truly unique way to both showcase some properties and provide a little fun.
Windermere Real Estate's branch in SunCrest, Utah inspired some goodwill in their community by hosting a #suncrestpizzaparty, teaming up with local restaurant Papa Murphy's to deliver 100 free pizza to residents and the Utah Food Bank.
[embedded content]
Also notable is Windermere's overarching campaign #AllInForYou, which included videos and gallery posts on Instagram describing this value proposition. One clever example was a video describing a time a seller power-washed their deck the day before their listing went live, damaging it in the process. The video then alludes to the fact that their real estate agent rolled up their sleeves and did the work to quickly repair the deck.
Kinlin Grover Real Estate's campaign #WeAreHereForYou highlights all kinds of good acts done by their employees, ranging from the many individuals making and delivering masks to thanking local healthcare and essential workers. Check out all the campaign's shares on Instagram.
For more Market Spotlight, check out last month's blog or follow our Instagram account.